On the sidelines of the official visit in Ankara, Turkey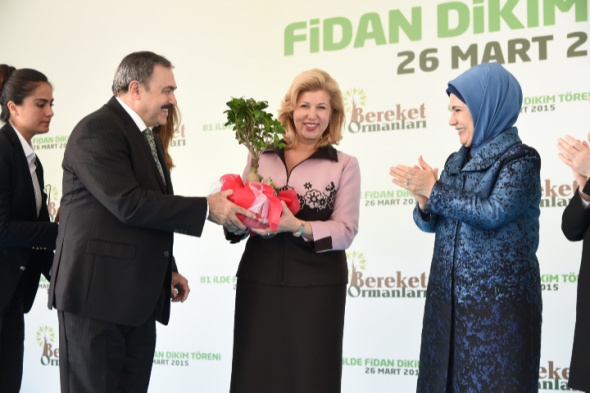 After the wreath-laying ceremony on Thursday morning, March 26th, at the Mausoleum of Mustafa Kemal Ataturk in the company of her husband, Mrs. Dominique Ouattara, First Lady of Côte d'Ivoire has responded positively to an invitation of the First Lady of Turkey, Mrs. Emine Erdogan for a tree planting ceremony. As part of the framework of the national reforestation day initiated by the NGO "Ambassadors of the heart", this reforestation ceremony was held simultaneously in the 81 constituting Turkey. That ceremony reminded the Turkish people the need to reforest their country, a prey to desert.
The First Lady Dominique Ouattara joined her gesture to that of millions of Turkish people, planting a tree, planting trees by digging and watering . A presence and a gesture highly appreciated by the First Lady of Turkey and guests who gave her a standing ovation. From now on, a tree bears the name "Dominique Ouattara" in the heart of Ankara. "I am particularly pleased to have participated in the tree planting ceremony. It is a national event and it was very interesting. I am very happy to have found the First Lady of Turkey. We know each other some time ago. We had been distinguished to Crans Montana ceremony in Brussels. I'm finally glad to know that Turkey is a beautiful country, " Mrs. Dominique Ouattara told the press. At the end of the ceremony, the First Lady of Côte d'Ivoire has been invited to discover a traditional dish from Turkish women, made from flour, vegetables and meat.