On the sidelines of the "Russia-Africa" summit: First Lady Dominique Ouattara visits Stalin's summer house and Dendrary Park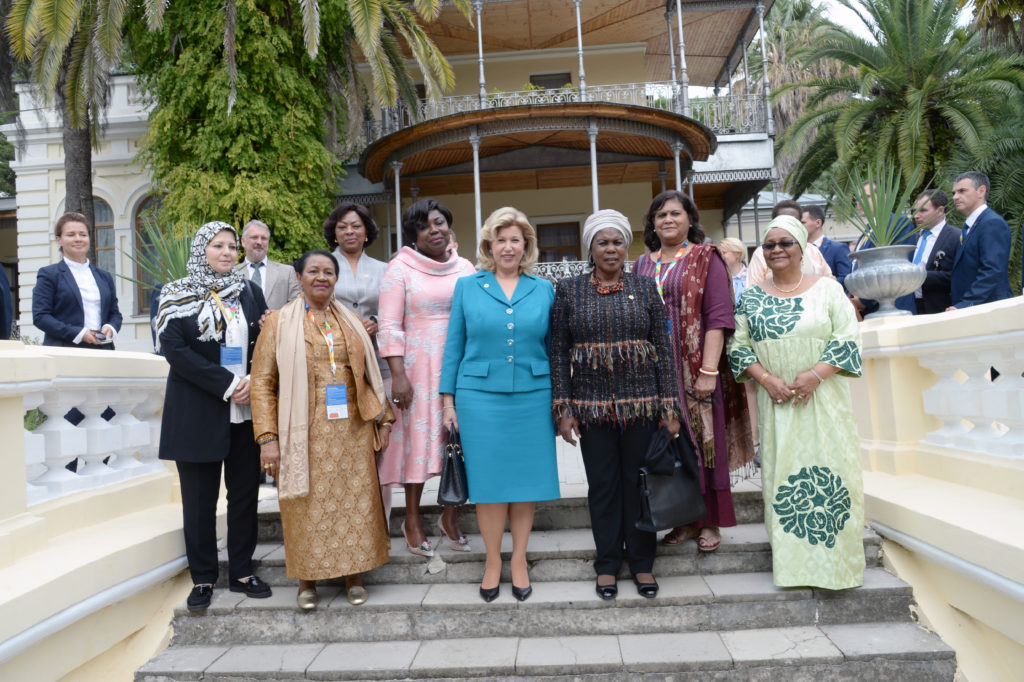 On the sidelines of the Russia-Africa Summit, the Wives of Heads of State and Heads of Delegation taking part in the Sochi Summit, south of Moscow, were invited to discover a part of the history of the Republic of Russia on Tuesday 23 October 2019.  The excursion into the history of Russia took place in Sochi.
Mrs Dominique Ouattara, First Lady of Côte d'Ivoire and all the First Ladies present alongside their husbands for this summit, visited the "Datcha", Stalin's Summer House.
Indeed, Stalin's Sochi residence is located in Khostinsky District in Sochi, near Matsesta, at the foot of Big Akhun Mountain.   This residence, located at an altitude of 160 metres, is a real tourist treasure, both in its architecture and in the memories left by Stalin.
Different rooms were opened and visitors were able to get an idea of Stalin's personality.
Outside the residence, the Black Sea and the silence of the thousands of shrubs remind us of the greatness of Stalin. According to testimonies, the city of Sochi owes much to this emblematic figure of Russia. The region was drained and luxurious sanatoriums were built to equip the summit of the Big Akhum mountain on his personal order.  The Sochi chalet was the favorite vacation spot of the Soviet head of state.
After the visit of Stalin's Datcha, the delegation made an excursion to the "Dendrary" or "Arboretumen" park, another treasure of Russian flora and fauna.
Dendrary Park created in 1889 by a passionate gardener named Sergey Nikolaevich is described as one of the most beautiful and visited places in Sochi.
Currently, the park covers 49 hectares. A vast collection of pines (1860 specimens, 76 species), the largest collection of palm trees (24 species) and oaks (80 species), cypresses, rare subtropical plants are gathered here. In a large aquarium, you can see morays, rays, clownfish and piranha. You can also see a rose garden, various plant species from the Mediterranean, East Asia (Japan, China, Himalayas, Far East), North and South America, Australia and New Zealand.
First Lady Dominique Ouattara did not fail to be impressed by the visit.