On the sidelines of the state visit in Mé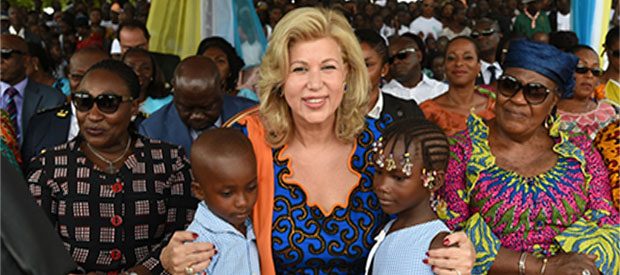 The new kindergarten of Agou, in the commune of the department Adzope now bears the name of Mrs. Dominique Ouattara, President of the Children of Africa Foundation. Built by the municipal council of the commune, the school aims to provide a quality education for early childhood. It is therefore logical that the founder of the humanitarian NGO held in person, on Saturday, May 9, 2015, in the margins of the state visit to the region of the Mé, to proceed with the inauguration of this kindergarten. And as she well knows, it is literally with hands loaded with gifts Mrs. Dominique Ouattara made the trip to Agou. Indeed, the mother of children in difficulty offered donations in cash and kind worth 12 million FCFA to the kindergarten and population of Agou, a municipality of the department of Adzopé. So for the kindergarten, Mrs. Dominique Ouattara has offered 3 swings, 3 slides, 3 armchairs for teachers, 3 ceiling fans, 3 storage units, 10 buckets for hand washing, 20 mats, 20 ponies, 10 tablets assorted with small chairs, 1 refrigerator, 1 Split, 500 sets of mop, sets of toys, educational equipment sets, wall decor sets and provision of maintenance products.
Mrs. Dominique Ouattara has also offered educational materials, cleaning products and food to primary schools and to the canteen of the school of the municipality. The value of these gifts in kind: 10 million FCFA. In addition to these in-kind donations, the President of Children of Africa has offered the sum of CFA 2,700,000 to the kindergarten and the populations of Agou.