On the sidelines of the state visit in the Woroba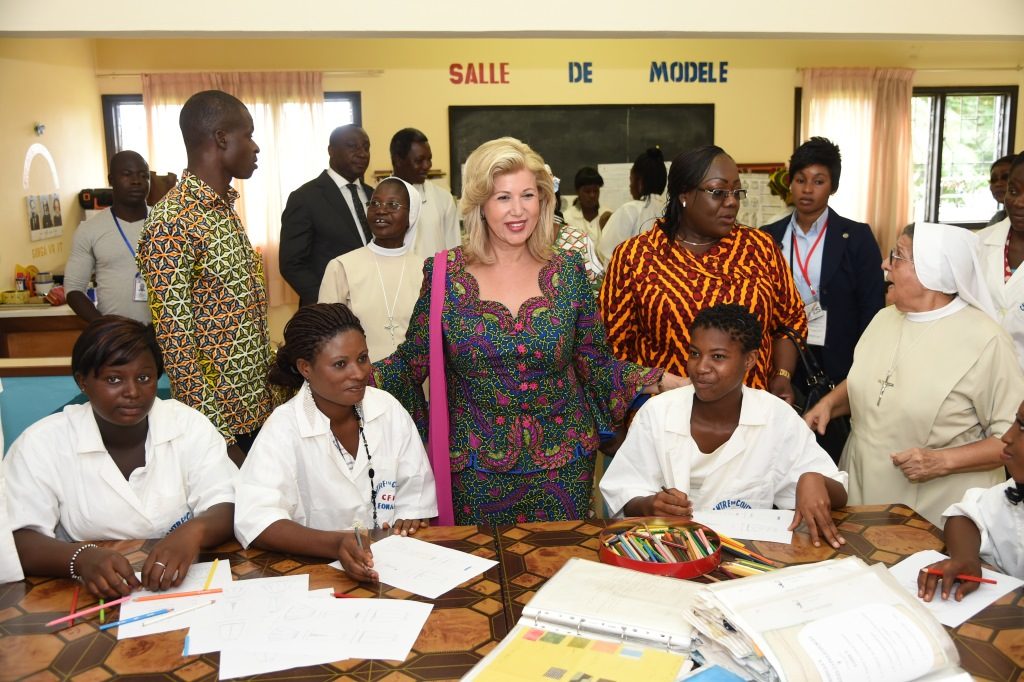 The First Lady Dominique Ouattara has provided support to the Leonardi vocational training center of the Congregation of Jesus Sisters-daughters of Touba. To this end, she offered equipment, various materials and supplies worth CFA francs 11 million to the training center. These gifts consist of a large gas stove for children's daycare unit, 10 electric sewing machines, 5 overlocking sewing machines, 2 irons and a lot of sewing equipment for cutting and sewing sectors. She offered outdoor games sets and educational materials for the kindergarten, 5 cash registers for economics and management sector. She also offered many food to the training center. In addition, the First Lady also presented the sum of more than CFA francs 2 million for students, the staff and the attending populations. The delivery ceremony of these donations has been held, on Wednesday, July 22nd, 2015, within the aforesaid training center.
Many personalities including Mrs. Sarah Sacoh Fadiga, Vice President of the National Assembly, Mrs Anne Désirée Ouloto, Minister of Solidarity, Family, Women and Children, Mrs. Chantale Camara, First Vice-President of the Supreme Court and many other personalities.
A perfect opportunity for Mrs. Dominique Ouattara to testify about her support and admiration for the work that the leaders of this center perform daily for the training of underprivileged children in Touba. "The humanitarian work tirelessly done by your youth center of Touba since 1986 is exceptional. And I am pleased to see that the youth in Touba finds with you, the necessary framework for their training and professional development. Our girls and boys also benefit from literacy classes, as well as a socio-professional training that give them a better chance of success in the work place", she delighted. Mrs. Dominique Ouattara recognized that the center's needs are enormous because the means do not necessarily follow. Also, she hoped that these gifts will ensure the training of many young people.