Over 3 million school kits Handed Out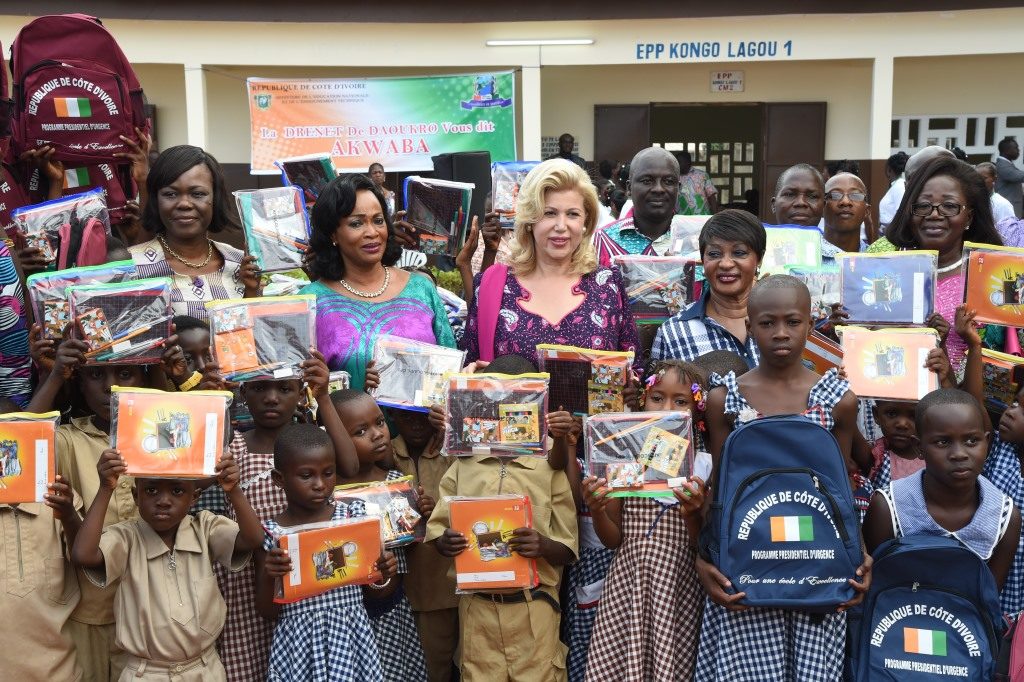 Special days for Special events. Parents of students will have a sigh of relief during this new school year. Because there are more than 3 million school kits to be distributed to schoolchildren throughout the national territory. To this end, the First Lady Dominique Ouattara chaired on Monday, September 15, 2014, the official day of the Kick-starting school at the Groupe Scolaire Kongo Lagou of Daoukro, the handing out ceremony of more than 3 million school kits in Cîte d'Ivoire. Through the Presidential Emergency Program (PPU) set up by President Alassane Ouattara at the end of the post-election crisis, this year are more than 3 million children across the country who will graciously receive school kits .
This donation will enable them to start with confidence the new school year. In addition, in the framework of her activities at educational level, Dominique Ouattara's Children of Africa Foundation plans to distribute in the next few days about 6,000 school kits. Furthermore, the First Lady, Mrs. Dominique Ouattara, President of the launching ceremony of the distribution process has offered the CFA francs 3 million for the children and teachers of Daoukro. So the kind-hearted lady has offered CFA 500,000 CFA to the pupils of the Groupe Scolaire Kongo Lagou; F CFA 500.000 to the Federation of Teachers' Organization Daoukro; CFA 1 million CFA to the pupils of the IEP of Daoukro and FCFA 1 million to the DRENET of Daoukro. Speaking after this act of generosity, Mrs. Dominique Ouattara took advantage of the ceremony to reaffirm the confidence she places in children education. Thus, addressing the toddlers, she argued that only work and discipline can make them respectable men and women. The First Lady was, also commended the fact that the PPU in its education component has helped millions of children go back to school. She took this opportunity to encourage Mrs. Kamissoko Kandia Camara, Minister of Education and Technical Education for the excellent results achieved in the field of education.