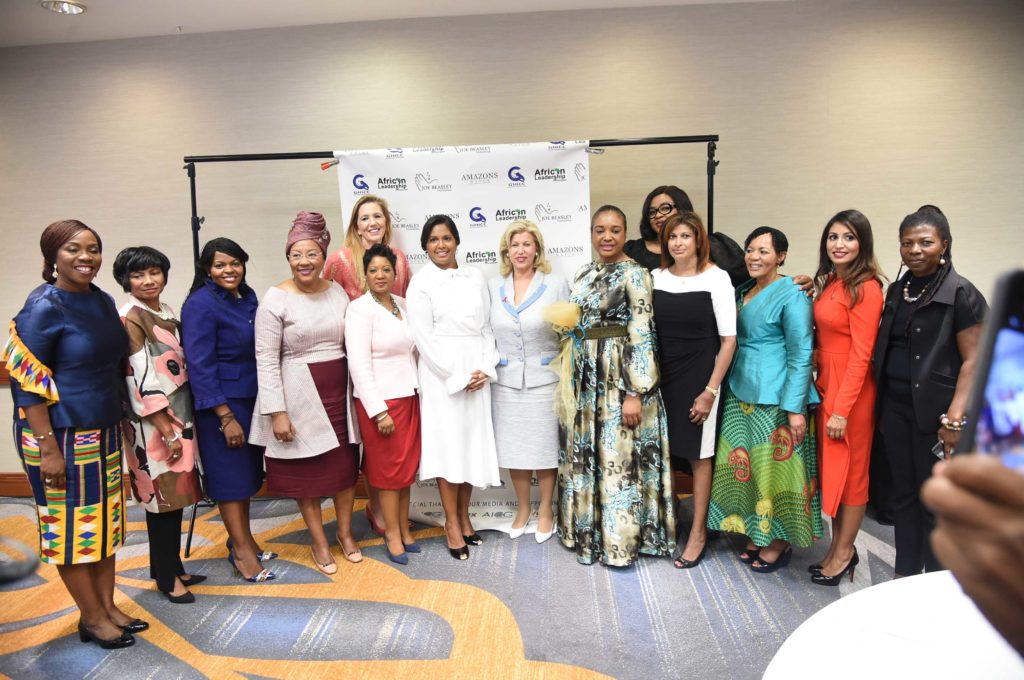 A particularly busy day for Madame Dominique Ouattara, First Lady of Côte d'Ivoire in New York. Indeed, on the sidelines of the 72nd Annual Assembly of the United Nations, the wife of the Ivorian Head of state participated, on Thursday, September 21st, 2017, in two (02) high-level meetings. Mrs. Dominique Ouattara took part respectively in a high-level meeting organized by UNAIDS under the theme: Acceleration strategy: intensifying actions aimed to end of the epidemic", and  a conference organized by the Center of Economic and Leadership Development.
It was at the United Nations headquarters in New York that Mrs. Dominique Ouattara began this marathon day with the high-level meeting organized by UNAIDS, which recorded the participation of several African heads of state.
Under the theme "Acceleration strategy: intensifying actions aimed to end of the epidemic", the Heads of State of Uganda, Swaziland, Seychelles, Botswana, Zambia and Guinea Conakry shared the policies in place in their respective countries and their vision to end the AIDS pandemic.
The President-in-Office of the African Union (AU), President Alpha Gondé, has supported the institution he leads in the vision and the efforts of UNAIDS Executive Director Michel Sidibé.
For her part, Mrs. Dominique Ouattara was keen to launch a call for an international mobilization against pediatric AIDS. For the Special Ambassador of UNAIDS, it is only on this condition that the States and the organizations involved in the fight against this scourge will be able to make it decline.
"In my capacity as UNAIDS Special Ambassador, I would like to call upon the entire international community for a strong mobilization for the care of pediatric AIDS in the continent. Indeed, antiretrovirals in their pediatric form remain inaccessible for many populations, and we are in great need of the action of pharmaceutical companies to correct this situation, if we want to end the pandemic by 2030 " said Dominique Ouattara. Her conviction is based on numbers. In fact, only 43% of sick children have access to pediatric antiretroviral therapy. A study conducted in 2016 shows that 80 per cent of pregnant women in Africa have received Prevention of Mother to Child (PMTCT) and antiretroviral treatment, but there are still 160,000 children which are born with HIV.
"This situation is unacceptable and must involve everyone in order to achieve real change," said Dominique Ouattara, UNAIDS Special Ambassador.
In addition, the First Lady paid tribute to French artist Line Renaud, one of the pioneers of the struggle and co-founder of SIDACTION.
"It is all together that we have the power to change the world, to reinvent a humanity without Aids (…)," said the artist with strength, determination and elegance. And conclude: "We will defeat AIDS".