Prevention of pediatric AIDS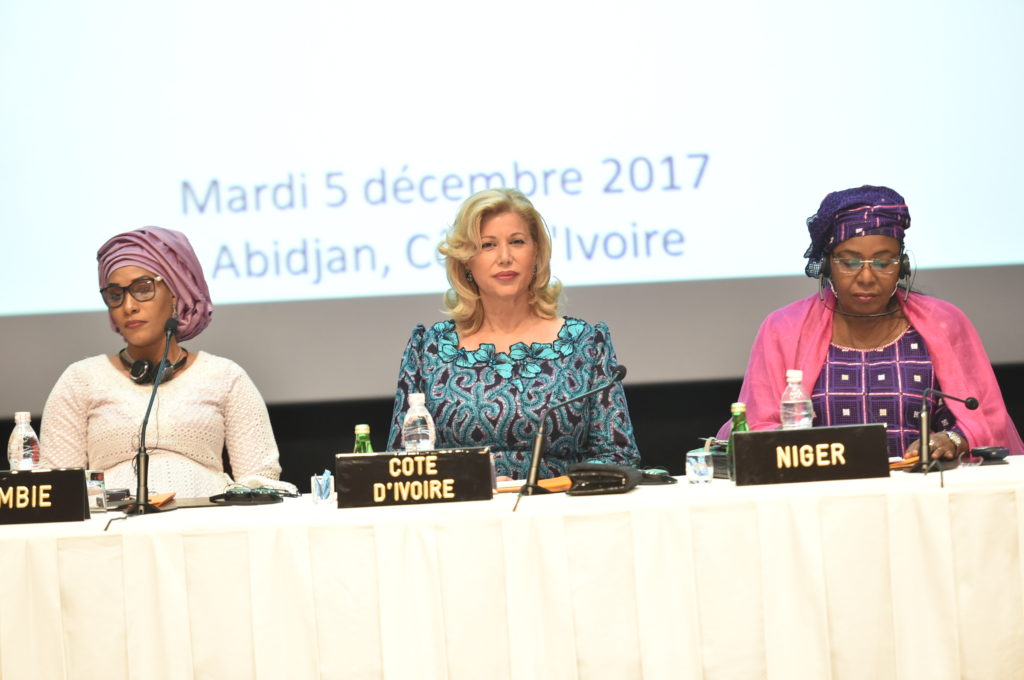 African First Ladies gathered in the Organization of African First Ladies Against HIV / AIDS (OAFLA) are committed to further their actions in the fight against mother-to-child transmission of HIV / AIDS. They made that decision at the OAFLA high-level meeting, under the theme "the role of Africa's First Ladies in sustaining the HIV response in the era of sustainable development goals and Agenda 2063", held on Tuesday, December 5, 2017, at the Sofitel Hotel Ivoire on the sidelines of the 19th International Conference on the fight against AIDS and STIs in Africa.
Indeed, the First Ladies of Africa now intend to make every effort to play their role in their respective countries. The meeting witnessed the participation of four (4) African First Ladies, Antoinette Sassou N'Guesso, First Lady of Congo, Mrs. Aïssatou Issoufou Mahamadou, First Lady of Niger, Mrs. Claudine Talon, First Lady of Benin and Mrs. Fatoumatta Bah-Barrow, First Lady of Gambia. They received support from Ms. Sandra Granger, First Lady of the Cooperative Republic of Guyana, and Ms. Kim Simplis Barrow, First Lady of Belize.
The meeting also witnessed the participation of high-level officials such as Michel Sidibé, UNAIDS Executive Director and many other officials.
Mrs. Dominique Ouattara, First Lady of Côte d'Ivoire and UNAIDS Special Ambassador delivered the opening speech of this meeting. During her speech, she recalled that since its establishment the Organization of African First Ladies Against HIV / AIDS holds its sessions on the sidelines of the meetings of the African Union, of the United Nations Annual Meetings, or at major events such as the 19th International Conference on AIDS and STIs in Africa. According to Dominique Ouattara these meetings are always opportunities for First Ladies to share their visions and experiences. "These meetings are an opportunity to jointly assess our organization's achievements, and find out how far we can go