Promotion of female entrepreneurship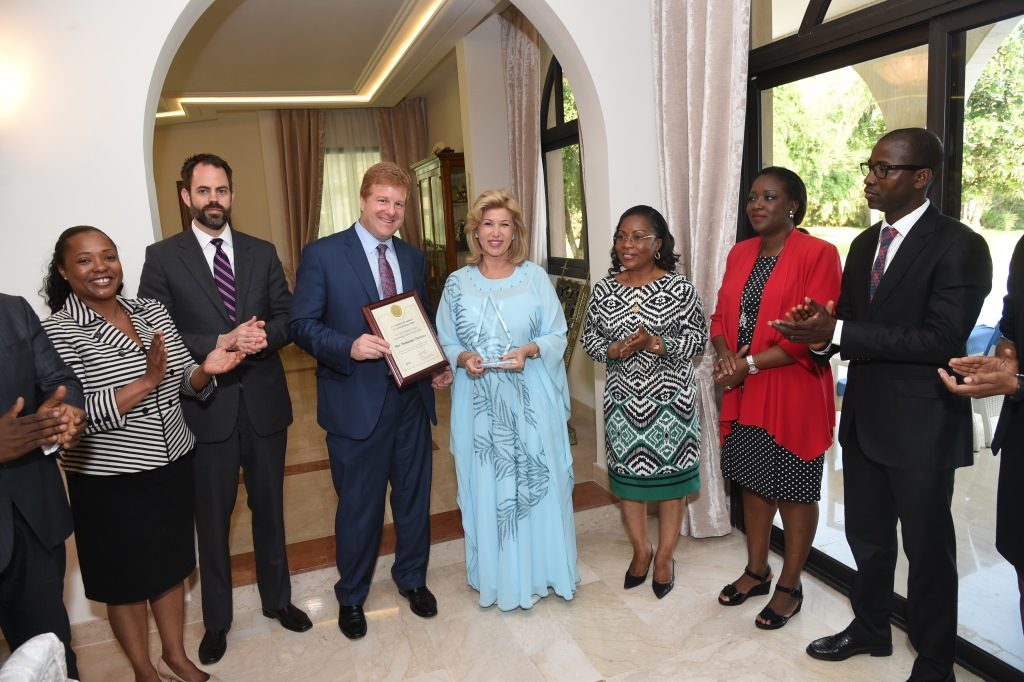 This is another recognition of the international community for the leadership of the First Lady Dominique Ouattara. Indeed, the American Chamber of Commerce has awarded the Head of State's wife a prize for her entrepreneurial and social involvement. The prized-giving ceremony took place on Tuesday, March 15 2016 at the Presidential Residence of Riviera Golf. The First Lady Dominique Ouattara was in the company of her closest collaborators. As for the delegation of the American Chamber of Commerce it was led by Mr. Maryon Brilliant, the vice president of the US Chamber of Commerce.
A minute of silence was observed in tribute to the victims of the terrorist attack of Grand-Bassam that had occurred some days before. Being well aware of the current developments, Mr. Maryon Brillant seized this opportunity to express his solidarity faced with the attack. About one hour, the First Lady Dominique Ouattara had a discussion with her guests on various topics. She explained her humanitarian commitment and went back over the success of the Fund of Support for the Women of Côte d'Ivoire (FAFCI) which already has more than 110,000 beneficiaries.
After the audience, the Vice President of the Chamber of Commerce made clear the reason of his visit to the First Lady. "It was a pleasure to visit the First Lady in oder to explain to her how the chamber of commerce of United States of America can collaborate with hers. We were very sad about what had happened on Sunday, March13 in Grand-Bassam. We also came to bring the voice of the Chamber of Commerce and the American community in order to express our solidarity with Ivory Coast. We also came to recognize and commend the First Lady for the great work she does for women and children. We decided to award her with a prize for getting through a lot of work for the well-being of women and children. The award aims at recognizing the role of Madam the First Lady in entrepreneurial leadership and as a woman for her assistance to women and children to improve their living conditions, "Mr. Maryon brilliant said.