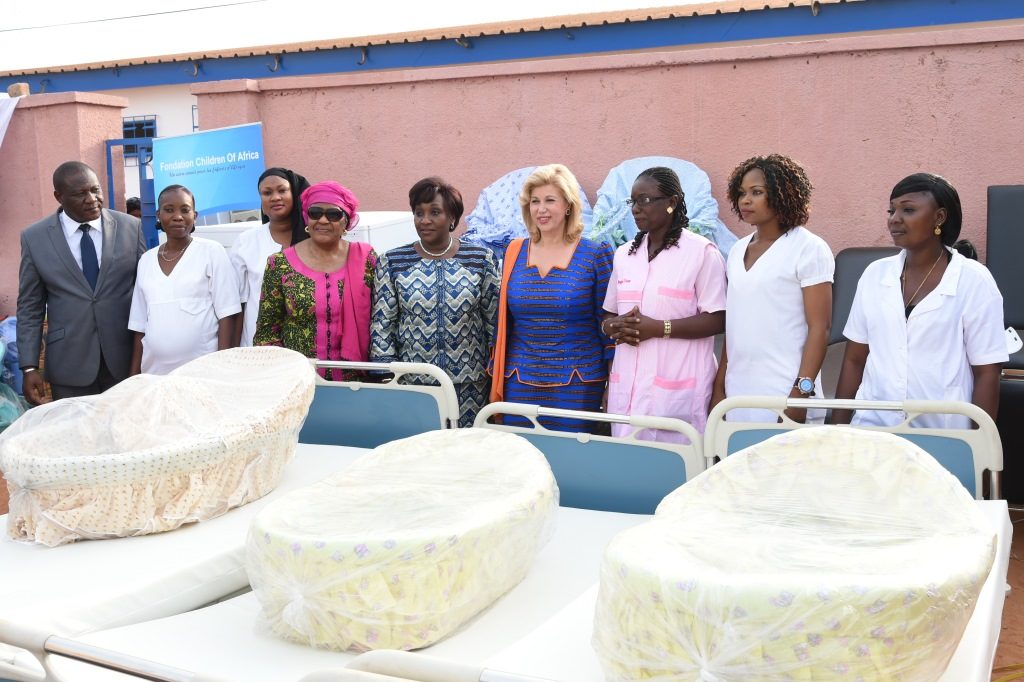 In 2009 Madame Dominique Ouattara inaugurated the "Dominique Ouattara Martnity" of Bardot Terre Rouge, a popular area in San Pedro. Nearly 6 years later, she is back. But this time as First Lady. It was enough to ensure that visit coupled with a donations ceremony to the maternity of Bardot is turned into a special occasion. The esplanade of the maternity was overcrowded, this Wednesday, on March 4th, 2015, to welcome all these people who came to thank Mrs. Dominique Ouattara, President of Children of Africa and Special Ambassador for UNAIDS for her continued support to Bardot Terre Rouge. Mrs. Dominique Ouattara came again hands full of gifts.
Indeed, the Special Ambassador for UNAIDS has provided in-kind donations worth CFA francs 10 million. So she offered medical equipment namely delivery tables; general consultation tables; dressing tables; hospital beds; mattresses; medical refrigerators for storing vaccines; minor surgery boxes; boxes of dressing; delivery boxes; care carts; incentive kits for antenatal care; baby care products kits; baskets and hampers to Bardot maternity. In addition, the Ivorian Mother Teresa offered cleaning and hygiene products to the maternity name after her. So she offered bleach paperboard; 100 mops batches; boxes of liquid soap; brooms with handles and rakes with handles to allow the maternity to remain clean. In addition to these in-kind donations, Mrs. Dominique Ouattara has offered cash donations to the population. She handed CFA francs 2 million to the association of Bardot women and CFA francs 500,000 to the maternity staff. The overall value of these gifts: 12,500,000 FCFA.
Mrs. Diaby born Mahoua Bamba, spokesperson of the population, thanked Mrs. Dominique Ouattara for her constant support to Bardot. She revealed that it's thanks to the President and Founder of Children of Africa the populations of this district have access to care. "You have facilitated access to care in this neighborhood for many families. You are a great lady with a big heart ", thanked Mrs. Diaby amidst the cheers of the crowd. Mrs. Dominique Ouattara, President of Children of Africa, in addition to being special UNAIDS Ambassador said her joy to be back in Bardot nearly 6 years after her first visit. She thanked the populations for their warm welcome.