Support of the First Lady to Minignan Department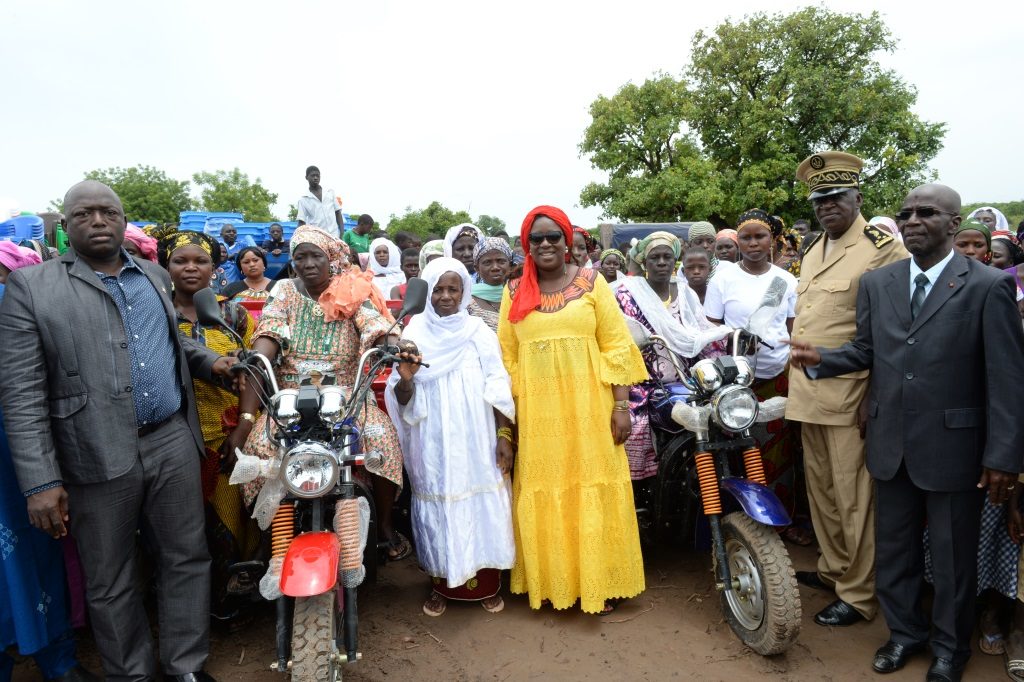 The caravan of solidarity initiated by the First Lady Dominique Ouattara prior to the state visit of President Alassane Ouattara in the Denguélé, has reached its end. After Samatiguila, Kaniasso, Séguélon and Madinani, it is the turn of Minignan, which is sixty kilometers from Odiénné, to receive, Tuesday, May 19, 2015, the gifts of Mrs. Dominique Ouattara. Like in the previous localities, there are gifts in kind and cash worth CFA francs 100 million that the crew of the First Lady Dominique Ouattara's Office, has offered to Minignan populations. The donation ceremony took place on the esplanade of the town hall of the municipality in presence of the elected, executives and all populations of the town.
The crew of Mrs. Dominique Ouattara has offered various equipments in the field of health, agriculture and education. Thus, Madame Nadine Sangaré, on behalf of the First Lady offered agricultural equipment to women's groups and associations and training material for hairdressing and sewing sectors. To improve the health of the populations, the First Lady has also offered an ambulance to the populations and equipment, as well as some medical equipment to strengthen the technical platform for the diverse community health centers. She also offered incentive kits for antenatal care. In the field of education, the nursery schools and secondary have also received equipment and training materials for better supervision and training for children. In addition, Mrs. Dominique Ouattara offered tricycles to the disabled of the department of Minignan. In addition to these in-kind donations, the First Lady Dominique Ouattara has offered CFA francs 1 million to the populations of the department.
Nadine Sangaré took the opportunity to share the message of support and hope with the people of Minignan. Faithful and always listening to the population, here is in a few words the commitment of Mrs. Dominique Ouattara. "(…) Be assured, your stepdaughter and sister Fanta Gbè will always be with you," she promised. And it is also to express that commitment she has decided to support the populations of Minignan.