The First Lady Dominique Ouattara to Ivorian Women living in Ethiopia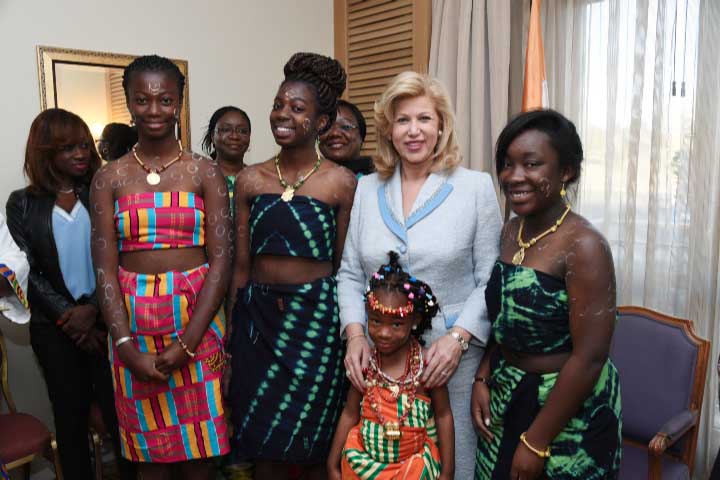 As soon as she arrived in the Ethiopian capital at the invitation of the Organization of African First Ladies Against HIV / AIDS (OAFLA), the First Lady, Mrs. Dominique Ouattara, agreed to meet this Thursday, January 29 the Ivorian women living in Addis Ababa has grouped within the association "Mamans Ivoire". They are diplomats, wives of diplomats, business leaders, employees in organizations, unemployed …… but all very attached to the mother country, Côte d'Ivoire. This pride of being Ivorian, the "Mamans Ivoire" wised to express it to their First Lady, on the 3rd floor of the Sheraton Hotel where they were received. It is the wife of the Ambassador of Côte d'Ivoire to Ethiopia, Mrs. Christine Aboua who spoke on behalf of the members of her association. She expressed pride in being received spontaneously by Ivorian First Lady.
She took this opportunity to pay her tribute for her many actions in favor of women and children. "We are proud to have a First Lady like you," Mrs. Bua exclaimed. The president of the "Mamans Ivoire" said this is the first time that the Ivorian women in Addis Ababa were received by the First Lady of the country which led to her gratitude to Mrs. Dominique Ouattara. They also enumerated the challenges they face. That is why they benefit as their sisters back home from a formula for the Support Fund for Cote d'Ivoire Women (FAFCI). They also advocated the implementation of the new status of diplomats in which the wife of Ivorian diplomat is now paid.