The First Lady Supports Flood Victims of Grand-Lahou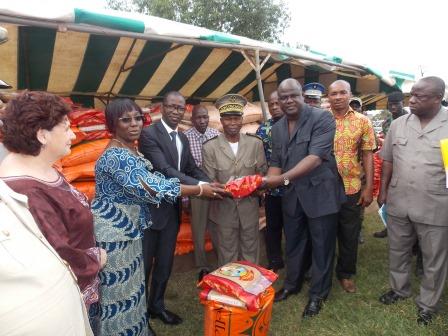 After supporting the flood victims in the District of Abidjan and those of Fresco sub-prefecture, First Lady Dominique Ouattara dispatched, this Wednesday, August 13th, 2014, a delegation of members of her Cabinet, led by Brahima Coulibaly, her Head of communications to provide support to the populations affected by torrential rains in the department of Grand-Lahou. The ceremony of the donations of food and non-food items has been held in the premises of Town Hall.
Thus, for food, the delegation of Mrs. Dominique Ouattara's Cabinet offered to the population, rice bags of 50 kg; as well as spaghetti bags.
Regarding non-food, the delegation of the wife of the Head of State has offered cartons of of bars of soap; plexisglas chairs, mats; basins; buckets; plates; bowls; goblets and carafes to victims.
To this end, Cissé Aïssatou, responsible for Education at the Office of the First Lady reiterated the support of the wife of the Head of State to the populations who are facing difficult times. "The populations of the municipalities of Cocody, Attécoubé, Abobo and Anyama, and Fresco have benefited from the support of Mrs. Dominique Ouattara, whom she supported during recent torrential rains; thus she could not remain indifferent to those of Grand-Lahou " the spokesperson of the delegation said.
In response to this solidarity drive, the Deputy and Mayor of Grand-Lahou Djaya John asked the delegation to translate the recognition of populations to the wife of the Head of State for the many gifts, but also for her social works throughout Côte d'Ivoire. "On behalf of our parents, I would ask you to translate our gratitude to the First Lady, our kind-hearted mom, who is much admired in Grand-Lahou, for all the scope of her actions alongside the Head of State. We see the great development projects. We also see, daily, the First Lady driving up the and down the valleys, even in the most remote areas of the country to bring happiness with social work", the Deputy Mayor said.
For Zamelé Jean-Baptiste, the Prefect of the department of Grand-Lahou "the donation of the First Lady crowns all the gifts that have been made in the department of Grand-Lahou. […] What matters is not the quantity but the kindness, the love of the First Lady for the Ivorian populations."
Dances and songs magnify solidarity.