THE FIRST LADY TOASTS THE SUCCESS OF THE NATIONAL WOMEN SOCCER TEAM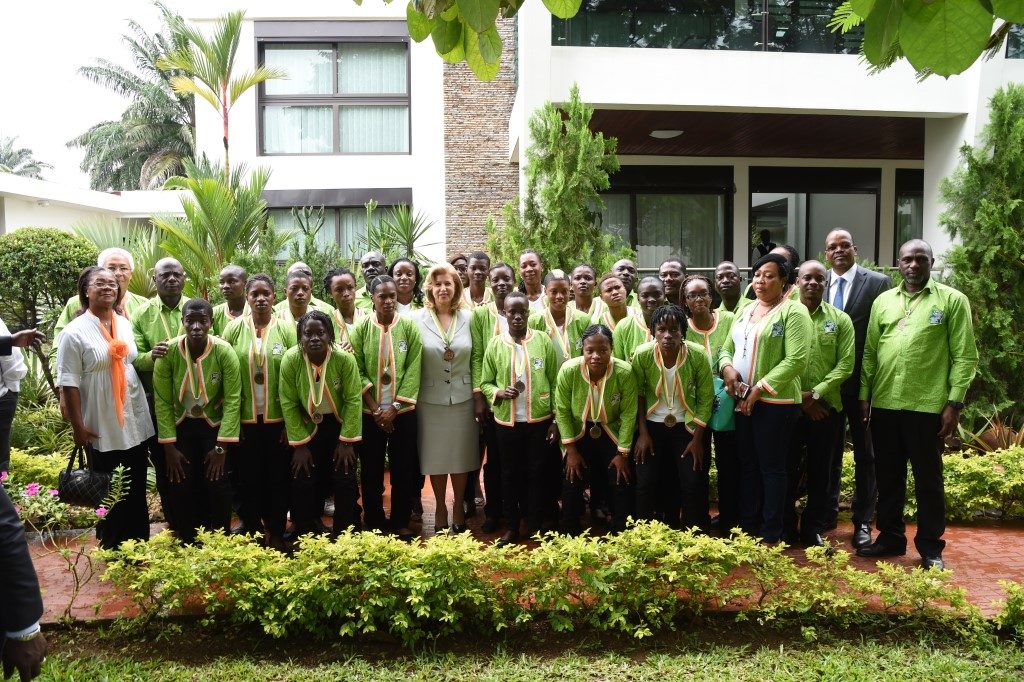 The first Lady Dominique Ouattara has received the national soccer team, this Tuesday, November 11, 2014, at her office in Cocody, after earning the third place at the African Women's Football Championship in Namibia, as well as the historic qualification for the finals of the World Cup, set in 2015, in Canada.
Alongside the women's football team, the Minister of Youth Pomotion, Sports and Leisure, Michel Alain Lobognon; the President of the Ivorian Football Federation Augustin Sidy Diallo; the President of on Women's Soccer Committee, Adu Berthe Caye, including the members of the Executive Committee of the Ivorian Football Federation, who came in large numbers to show the fruit of the labor of Ivorian athletes to their godmother, Mrs. Dominique Ouattara.
Proud of her godchildren, Mrs. Dominique Ouattara opens the donations ball by offering them the CFA francs seven (07) million, and three (03) million to their supervisors, triggering a thunderous applause.
A total of CFA francs 10 million.
The honor went to Madame Berthe Adou Caye to speak on behalf of the FIF. She first expressed her gratitude to the First Lady, also first captain of the National Women's Football selection, for her active support and encouragement, by which the National Women's Football team was able to occupy the third place " which honors Côte d'Ivoire . "
She then highlighted the participation of Ms. Dominique Ouattara's goddaughters to World Cup 2015 who will face more experienced teams. That is why she said it will take substantial resources and a moral framework to defend the colors of Côte d'Ivoire in Canada next year.