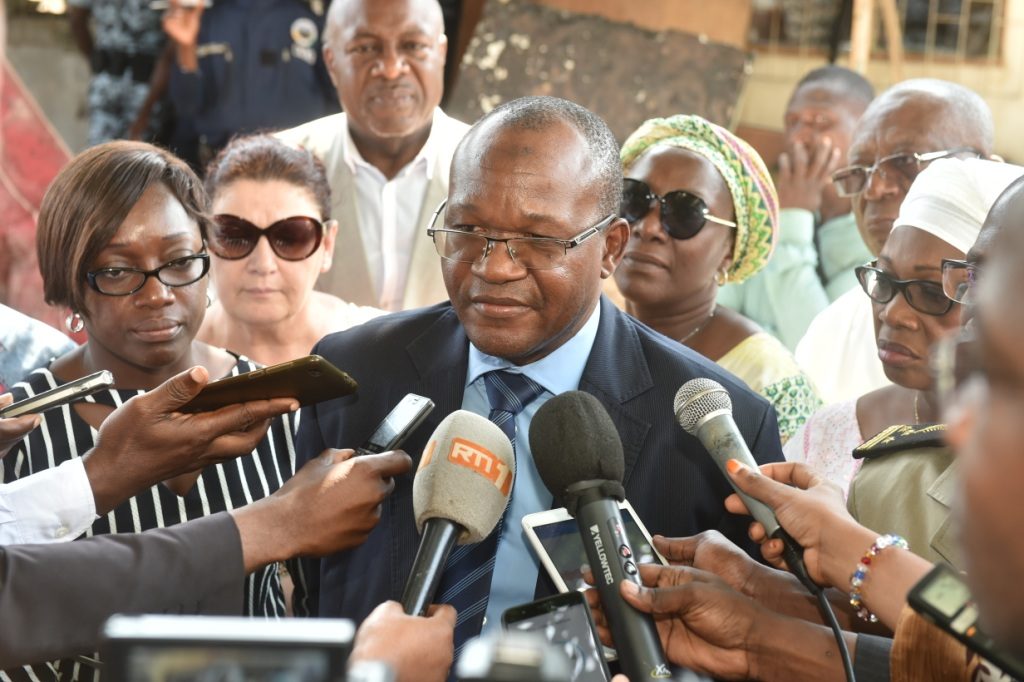 On Tuesday, July 24, in the night a terrible fire destroyed Ms. Anomel's residence. In total, nine (09) people, including eight (08) from the same family died in this tragedy.
Despite the fact that she was out of the country, the First Lady decided to send her collaborators to the grieving families on Friday, July 27, 2018, in Grand-Bassam to express their compassion and support.
The delegation of the office of the First Lady was led by Mr. Bakari Konaté, Director of Administrative and Financial Affairs (DAF) at the office of the First Lady. He was accompanied by Mrs N'Da Nadia, Deputy Chief of Staff to the First Lady, Mrs. Cissé Aissatou, Head of Education Department, Mrs. Durand Béatrice, Head of Social Affairs. The condolences ceremony witnessed the presence of Mr. Georges Philippe Ezaley, Mayor of Grand-Bassam and Mr. Amankou Kassi Gabin, Prefect of Grand Bassam.
Bakari Konate, spokesman for the delegation, said that the First Lady was particularly saddened by the terrible tragedy that hit the families. She offered three (03) million CFA francs to the bereaved family for the funeral arrangements.
On behalf of the bereaved family, Mr. Zakari Anomel thanked the First Lady for her support. He also recalled the circumstances of the tragedy. According to him, the families are going through an unbearable situation because they have lost all their children.