Visit the PMI of Abengourou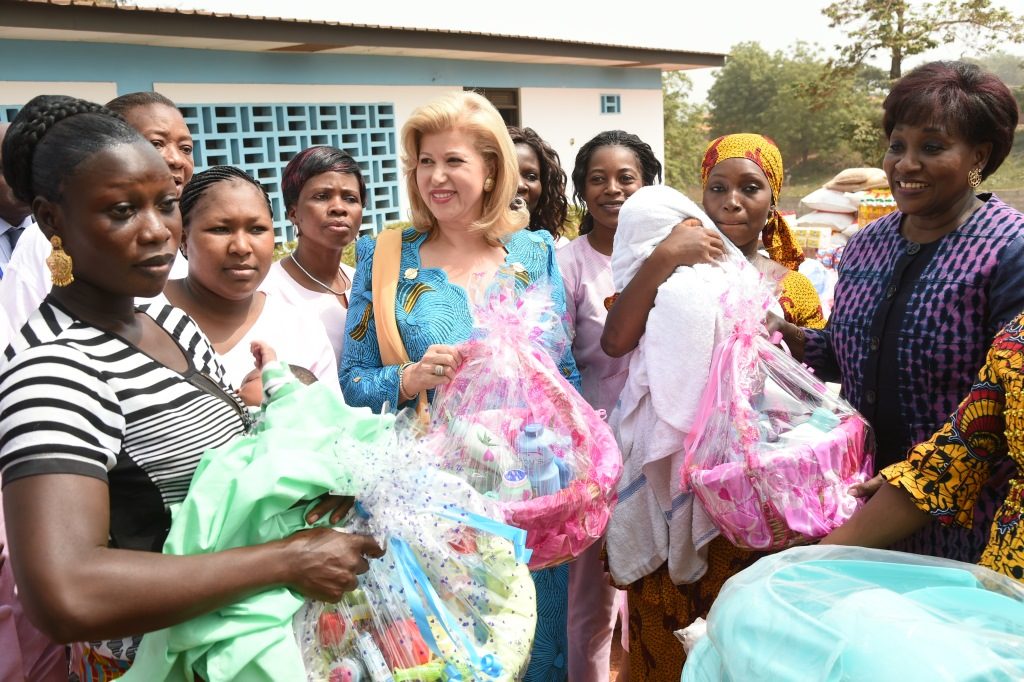 On the sidelines of the delivery ceremonies of gifts and checks of the Support Fund for Women of Côte d'Ivoire (FAFCI), First Lady Dominique Ouattara visited the Centre for Maternal and Infant Protection (PMI) on Friday January 16, 2015. As a UNAIDS Ambassador to speed up access to pediatric treatment of HIV / AIDS, the First Lady Dominique Ouattara wanted to know from first-hand the health provisions of Abengourou for better care provision of the mother and child. And as usually well done, she offered gifts to the health center and the women present during her visit. So she offered F CFA two (2) million CFA francs for women and members of center staff: one (1) million CFA francs for women and CFA one (1) million staff at the center. In addition, she offered 50 screening kits; 20 Moses baskets; 1 ton of rice; 5 Oil bowes; 5 Bleach boxes; 5 pasta bags and other gifts to women.
Speaking, Mrs. Dominique Ouattara urged women to attend the screening center to better protect their families. "AIDS is not today a fatality. There are treatments to help you protect your family and avoid developing the disease, "she said. Raymonde Coffie Goudou, Minister of Health and the Fight against HIV / AIDS reminded the efforts made by the government to curb the pandemic. So she revealed that from a prevalence rate estimated at 3.7, a few years ago, Côte d'Ivoire is now down to 2.7 in 2014. She also revealed that men unlike women shuffle along to go to screening centers. This problem ruins women's efforts to protect themselves against this disease.
Sal Talsir, UNAIDS Country Director, meanwhile, thanked Mrs. Dominique Ouattara, UNAIDS Ambassador. He promised that he will report to the Executive Director of the actions of the First Lady as part of the campaign against mother-to-child HIV / AIDS transmission.