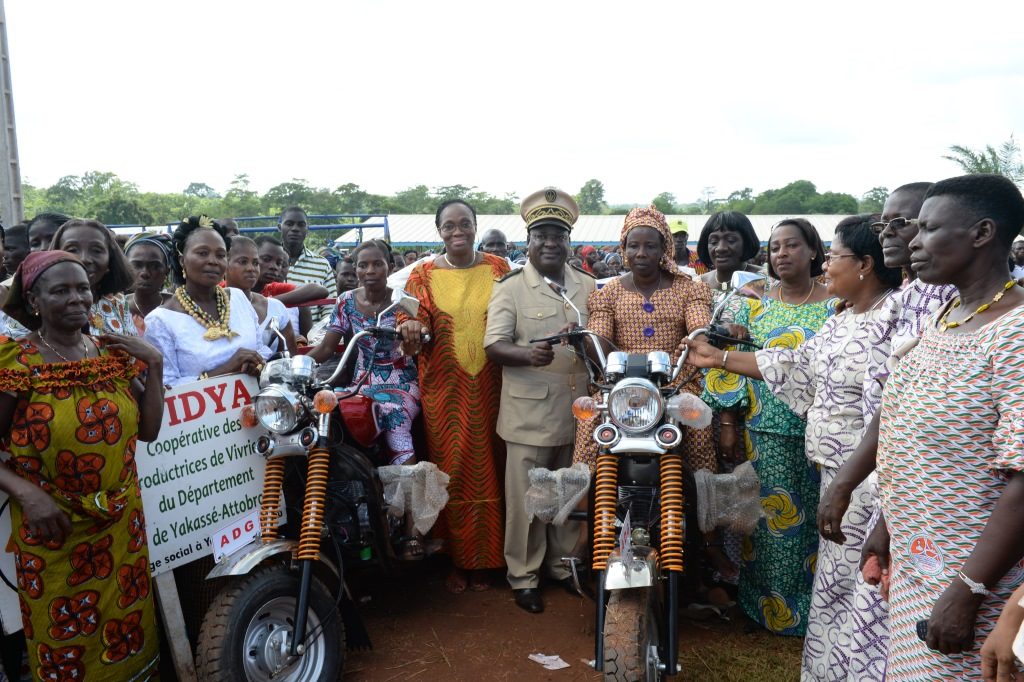 The populations of Yakassé-Attobrou were longing to fellowship with their First Lady. They had the opportunity to translate their admiration and love, on Wednesday, May 6, 2015 in Yakassé Attobrou, on the occasion of the solidarity and sharing spirit initiated by Mrs. Dominique Ouattara ahead of a state visit of the President of the Republic, Alassane Ouattara in the region of the Mé. The impact of the social works and actions in favor of populations in need preceded the First Lady in the city of Taro. It is a population largely committed to the humanitarian actions of the First Lady Dominique Ouattara who wanted to reserve a warm welcome to the members of her cabinet. An exceptional mobilization. A message of gratitude expressed, in the manner of great days, by ADEPO Yapo François Mayor Yakassé-Attobrou has praised Mrs. Dominique Ouattara.
"I say and I confess that Mom Dominique is a well-born soul, a woman of value, a woman quite over the average. We do not rank, but send to our dear mother, our First Lady of Côte d'Ivoire that Yakassé-Attobrou can say without any risk of error that mom Dominique Ouattara is beyond the average, so she is the top of all First Ladies of Côte d'Ivoire, "said Mr. François ADEPO Yapo. For the latter, the actions of Mrs. Dominique Ouattara should earn her the recognition and support of the people. "Women of Yakassé-Attobrou all these good works by mom Dominique has earned her recognition from us and the commitment to support and carry as further and as long as possible this noble mission," she confessed. Chantal Poaty, Councillor to Mrs. Dominique Ouattara on behalf of the First Lady, delivered in-kind donations worth 145 million CFA francs to the people of Yakassé Attobrou.
In addition to these in-kind donations, she offered CFA francs one million to the latter. The highlight of the ceremony was the presentation of the ambulance and the medical equipment at the health center of the department. People welcomed this gesture with cheers and shouts of joy. In addition to the ambulance, gifts of various kinds and in several sectors such as agriculture, hairdressing, dressmaking, catering have been offered to the populations. The school canteens, kindergartens, schools and the secondary schools of the department have not been forgotten. The social training centers have received large donations that will boost their operation. As a fervent advocate of women's empowerment, Mrs. Dominique Ouattara has offered complete equipment for women's centers in the department.