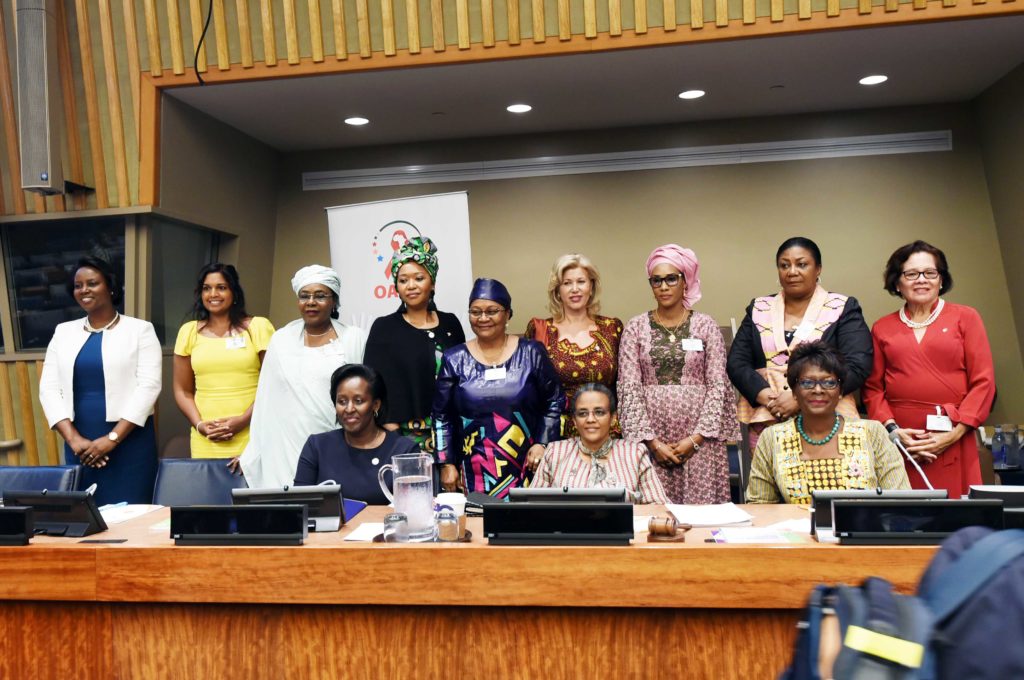 On the sidelines of the 72nd session of the United Nations General Assembly, the Organization of African First Ladies on HIV / AIDS (OPDAS) organized a high-level meeting on global partnership on Tuesday, September 19th 2017 to harness the demographic dividend in Africa.
Therefore, two panels were organized under two themes: "Implementing the African Union Roadmap to Harness the Demographic Dividend in Africa: Ensuring Youth-Friendly Health Services Where They Are Necessary And "Implementing the African Union Roadmap to Harness the Population Dividend in Africa: Ending AIDS by 2030."
Invited to give her vision during this panel, the First Lady of Côte d'Ivoire, Mrs. Dominique Ouattara said: "… It is clear that the youth of our continent remains vulnerable. They remain exposed to a certain extent to precariousness, to the low level of education, as well as to the lack of health care for certain pathologies ", noted Mrs. Ouattara.
That is why she called for the union and intensification of actions to improve the living conditions of young people and adolescents in Africa.
According to the African Union (AU) roadmap, the First Lady of Côte d'Ivoire believes that more investment is needed in the continent's youth, particularly in the fields of education, health and financial empowerment.
In addition, the First Lady of Côte d'Ivoire has made five (05) proposals to significantly eradicate HIV / AIDS among young people.
According to the First Lady of Côte d'Ivoire, there is a need to intensify the provision of prevention services for young people and adolescents through targeted communication on behavior change
Secondly, social protection should be promoted for all HIV / AIDS-related pathologies, with particular emphasis on access to care and medicines, particularly in rural areas.
She also said that access to sexual and reproductive health services should be promoted, while advocating for free contraceptives in both programs and antiretrovirals.
Fourthly, the wife of the Ivorian Head of State underlined the need to strengthen the care of young people living with HIV / AIDS through the development of integrated health structures. "In Côte d'Ivoire, the government has authorized the delegation of tasks that allows all health professionals to prescribe antiretrovirals for the treatment of opportunistic diseases such as tuberculosis and hepatitis," testified the First Lady of Ivory Coast.
Finally, the First Lady of Côte d'Ivoire noted that efforts to eliminate gender-based violence, with particular emphasis on the treatment of obstetric fistula which is a real public health problem. "All these actions in favor of our young people will be all the more achievable if we allow them to have a financial autonomy," she concluded.
These proposals were much appreciated, and the First Lady of Côte d'Ivoire was even entitled to a standing ovation from the Assembly.