Dominique Ouattara, born Dominique Claudine Nouvian is the First Lady of Côte d'Ivoire. Ivorian of French origin, she was born on December 16, 1953 in Constantine, and is the wife of Dr. Alassane Ouattara, President of the Republic of Côte d'Ivoire. Mrs. Dominique Ouattara is a mother of two children.
1989: Diploma of Expertise in Real Estate in Paris (France)
1987: Diploma of Property Administrator FNAIM (France)
1975: DEUG of languages option economy at the University Paris X (France)
1972: Bachelor of Economics at the Academy of Strasbourg (France)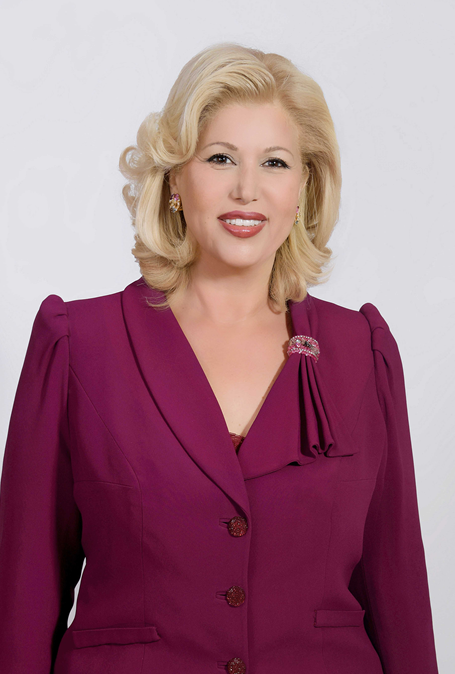 H.E Mrs. Dominique OUATTARA, First Lady of Côte d'Ivoire had a brilliant career as a real estate business executive, before her husband was elected President of the Republic. In 1979, she became CEO of AICI International Groupa company that is represented in Africa and Europe. After reinforcing her company's presence in Côte d'Ivoire, particularly in, Yamoussoukro, Bouaké, San-Pedro and Jacqueville, Dominique Ouattara established AICI in Europe in 1989, by choosing France for its international office. After a first branch in Paris, AICI continues its expansion in the south of France and established a branch in Cannes in 1991.
In 1993, « Malesherbes Gestion », a real estate management company, which manages more than 200 buildings in Paris, extended the expansion of AICI International Group. AICI International also settled to Gabon in 2001 and to Burkina Faso in 2006..
Meanwhile, in 1996 Dominique Ouattara was appointed CEO of EJD Inc., a company that manages Jacques Dessange Institute in Washington. In 1998, she acquired Jacques Dessange franchises in the United States and then became CEO of the French Beauty Services, which manages the US franchise's brand.
After the election of Alassane Ouattara as President and in accordance with the campaign pledges made by the latter, she gave up her commitment as business executive, distanced herself from all professional duties and sold Dessange USA franchises to Dessange Paris Group, to devote herself exclusively on her role as First Lady of Côte d'Ivoire and to her Foundation.
Around his Cabinet and his Foundation, his actions materialize:
Her actions to address child labour
As a result of her commitment to eliminate the worst forms of child labour in Côte d'Ivoire in all spheres of economic life, Mrs. Dominique OUATTARA was named President of the National Oversight Committee of actions to fight against trafficking, exploitation and child labour (CNS), on November 3, 2011 by the President of the Republic. To this end, she works with national and international partners for the elimination of this scourge in Côte d'Ivoire and in the West African sub-region.
The committee's role is to monitor and evaluate Government's policies to eliminate child labour. The activities of the CNS and its partners have led to the successive adoption of two National Plans of Action (2012-2014 and 2015-2017) to significantly reduce the worst forms of child labour in the country.
Her Foundation's latest project is the construction of three shelters for children in Soubré, Ferkessédougou and Bouaké (Côte d'Ivoire), to assist children who have been exposed to trafficking and rescued from the hands of child traffickers. The transit shelter will provide the necessary assistance and protection for the wellbeing and reintegration of children before they return home. The first one in Soubré, has been opened in april 2018.
Mrs. Dominique Ouattara's intervention to the International Labour Office resulted to the elaboration of the lists of hazardous work prohibited for children and light work authorized for children between 13 to 17 years old. This is a significant step forward in combating child labour. Mrs. Dominique Ouattara, also favored the involvement of other First Ladies on this theme, especially at the Conference of First Nations West Africa and Sahel held in Abidjan in November 2017.
Her actions in the health sector
In her role as UNAIDS Special Ambassador, Mrs. Dominique OUATTARA pays a particular attention to health, with an increased commitment to the elimination of mother-to-child transmission of HIV and to the promotion of pediatric treatment. In her efforts to combat HIV/AIDS pandemic she joined many First Ladies Associations such as the Organization of African First Ladies against HIV/AIDS (OAFLA) in 2011 and the Association Synergie Africaine. She also participated to First Ladies' meetings in Deauville (France), Bamako (Mali), Accra (Ghana), as well as other major events in the world.
In this context, she organizes advocacy to highlight the actions of different organizations involved in this cause and works to enhance the capacities of health facilities, particularly maternity hospitals..
In addition, the Children of Africa Foundation has organized several health campaigns for disadvantaged children to provide them with free vaccination, free eye treatment and elimination of parasites. Many thousands of them were even offered eyeglasses and some benefitted from free medical intervention.
Mrs. Dominique OUATTARA has also initiated the construction of the Mother-child hospital with a capacity of 130 beds and places, in order to contribute to the reduction of maternal, neonatal, infant and juvenile mortality and morbidity. The Mother-child hospital of Bingerville is built on a four-and-a-half hectare site and will also have a pediatric oncology unit. The Level 5 health facility has opened to the public in March 2018 during the celebration of the 20th anniversary of the Children of Africa Foundation. For this project Children of Africa and its generous donors committed 25 billion FCFA, of which 18 billion FCFA for the construction and 7 billion FCFA for the equipment.
Her actions to promote women's empowerment
Strongly believing that women's potential can impact the economic development of a country, Mrs. Dominique OUATTARA decide to launch the Support Fund for the Women of Côte D'Ivoire (FAFCI) in 2012 to finance women-led micro-projects. This fund aims to facilitate women financial empowerment, encourage entrepreneurship among women and address unemployment.
FAFCI is accessible to all women of Côte d'Ivoire at a reduced interest rate of 1% (including VAT) per month. To date, more then 135, 000 women across Côte d'Ivoire have benefited from the fund which currently has a capital of 10 billion FCFA.
In addition she donated agricultural equipments and inputs to women group and provided training on business management.
Her actions to promote education and other social actions
Mrs. Dominique OUATTARA annually distributes school kits to vulnerable children and supports schools and canteens, in order to contribute to the full self-realization of the populations and thereby secure the future of children.
Also, several centers for vulnerable children in Africa and particularly in Côte d'Ivoire receive grants from the Children Of Africa Foundation.
Every year, the First Lady Dominique OUATTARA organizes mother's day and Christmas celebration across the country for mothers and children. This shows her clear commitment for the wellbeing of all.
On 21 September 2017, Mrs. Dominique Ouattara, First Lady of Côte d'Ivoire, received « Global Impact Leadership Awards » of the« Center of Economic and Leadership Development » for her efforts to eliminate child labour and to promote women's empowerment.
On 12 September 2017, Mrs. Dominique Ouattara received from President Marcelo Rebelo de Sousa the Grand Cross of the Order of Merit of the Republic of Portugal, for her many charitable actions in Africa.
In 2016, Mrs. Ouattara received the US – Africa Business Center Outstanding Leader's award from the American chamber of commerce for her commitment and humanitarian actions in support of women's entrepreneurship.
On December 18, 2014 in Abidjan: She is presented as UNAIDS Special Ambassador for the elimination of mother-to-child transmission and the promotion of pediatric treatment for HIV.  
On March 14, 2013 in Abidjan: She received the Lebanon Grand cordon of the honour of merit.
On July 19, 2012 in Washington D.C: She received the World Cocoa Foundation Prize (WCF) for her commitment to children wellbeing.
On January 26, 2012 in Paris: She is distinguished as Commander of the National Order of the Legion of Honour by President Nicolas SARKOZY.
On December 6, 2011 in Abidjan: She is distinguished as Commander of the Ivorian National Orderby Mrs. Henriette Dagri DIABATE, Grand Chancelor of the Republic of Côte d'Ivoire.
On February 16, 2011 : She is invited as Guest of honour to First Ladies' meeting at the Crans Montana forum. She received the Crans Montana Foundation prize for her actions in promoting solidarity, democracy and peace. The prize was presented by Irina Bokova, Director-General of Unesco.
On May 27, 2009 : She is distinguished as Officer of the Order of Merit of Solidarity for the charitable, social actions and humanitarian missions initiated by her foundation since it was created.
On Saturday, May 24, 2008 in Abidjan: As President of the Children Of Africa Foundation, she received the International Pan ICS Prize 2007-2008 of Africa, best woman prize of the best charity organization in West Africa , for her actions to promote education and training and her support to deprived children and women in difficulty.
On April 11, 2000, in Venise : At the Annual Gala organized by Star Group, an American consulting firm, Mrs. Ouattara is elected by a jury of bankers, business executives, journalists « Best Business Woman of the year 2000 ». in the framework of The Leading Women Entrepreneurs of the World Award. 
  In 1989, Mrs. Dominique Nouvian Ouattara is elected Honorary President of the Real Estate Agent Organization of Côte d'Ivoire  (CSDAIM).