UNAIDS Special Ambassador
Dominique Ouattara, First Lady of Côte d'Ivoire, Special Ambassador for the Elimination of Mother-to-Child Transmission of HIV and for the Promotion of Pediatric Treatment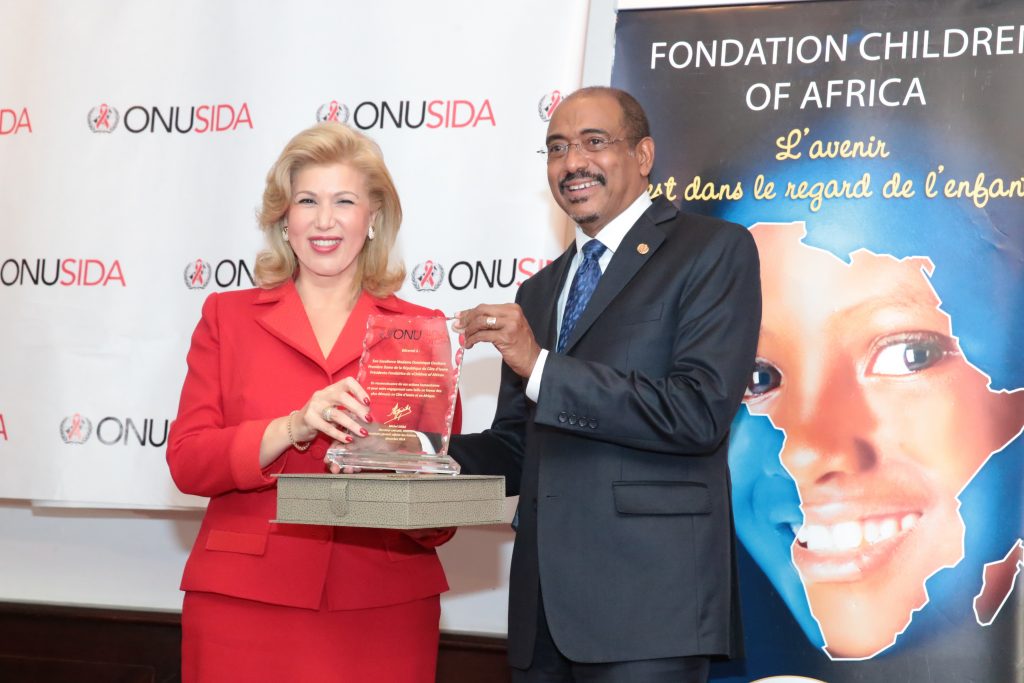 Making children and families a priority is the longstanding commitment of Dominique Ouattara, First Lady of Côte d'Ivoire and founding President of the Children of Africa Foundation. Through multiple platforms, the First Lady defended the rights of children for access to health and education. In 1998, Ms. Ouattara created the Children of Africa Foundation, which supported various projects in Côte d'Ivoire, including school construction and vaccination campaigns.
In 2011, she was appointed President of the National Committee for the Monitoring of Actions to Combat Trafficking, Exploitation and Child Labor. In 2012, she launched a support fund for women in Côte d'Ivoire to finance their micro-projects. This fund aims to facilitate financial empowerment and encourage entrepreneurship among women.
An action focused in particular on the Mother-Child couple
In her role as Special Ambassador for the Elimination of Mother-to-Child Transmission of HIV and for Promoting Pediatric Treatment, Ouattara will continue to raise awareness about access to antiretroviral therapy for women and children living with HIV.
Recognizing that stigma and discrimination are the cause of many barriers to health and education, Ouattara is a strong advocate of non-discrimination.
Its membership of associations bringing together the First Ladies for the fight against AIDS such as the Organization of First Ladies of Africa against AIDS (OPDAS) in 2011 and the Association Synergie Africaine, as well as its participation in First Ladies' meetings in Deauville (France), Bamako (Mali), Accra (Ghana), as well as other major events around the world, demonstrate its commitment to fight the pandemic.
The First Lady, Ms Dominique Ouattara was honoured on the occasion of the 9th Session of the National AIDS Control Council (CNLS), at the Salle des Pas Perdus of the Presidential Palace, on Friday July 14, 2023.